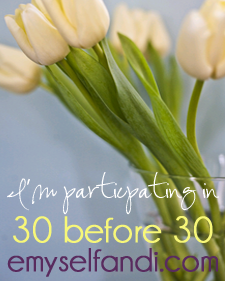 So, I turned 29 a little over a month ago. Just before my 29th birthday, I started thinking about the dailyness of life and how quickly it passes without me even realizing what is happening. The past several years I've been talking about this idea of being present... in the moment... living intentionally. My friend, Stephanie calls it living in the "thickness of time." God has given me one life to live and I want to be intentional about how I live it. In this vein of thinking, I've decided to create a list of things to accomplish or experience before I turn thirty. Seeing as how, the processor in me has taken a month to compile a realistic, measureable list - I now only have eleven months within which to check all of these things off of my list. The list is in no particular order of importance, although I did put one that is completed as number one. Part of the fun includes blogging about each experience!
Here's my list (Let me know if you want to help me complete one of these too):
1. Take a spiritual pilgrimage
2. Take a real, grown-up vacation (not visiting family)
3. Roadtrip to Kansas City
4. Get a dog
5. Publish something I've written
6. Write one hand written letter each week
7. Read 12 books (and finish them):
Lioness Arising by Lisa Bevere
Pursuing God's Will Together by Ruth Haley Barton
Jesus-Hearted Woman by Jodi Dietrich
The Noticer by Andy Andrews
God's Favorite Place on Earth by Frank Viola
Quiet: The Power of Introverts by Susan Cain
God's Women Then and Now by Gill & Cavaness
Sex & The Soul by Donna Frietas
Through Painted Desserts by Donald Miller
Community is Messy by Heather Zempel
How Does it Feel to be a Problem by Moustafa Bayoumi
And It Was Good by Madeleine L'Engle
8.
Build a true friendship with a woman from another culture & religion
– at least once a month invest quality time into her.
9. Prepare and eat an entire meal with friends in which we only speak Spanish
10. Plant a garden
11. Purchase a decent camera & learn the art of photography
12. Learn to play chess
13. Take a pottery class
14. Learn to crochet – an afghan
15. Go on a real date
16. Golf with Dad
17. Make a memory with mom
18. Go on a hiking & camping trip with Michael & Steph
19. Memorize a chapter of the Bible (Romans 8)
20. Create a Self-Care Kit
21. Take a 3 day spiritual retreat
22. Spend a day at a spa: massage, facial – the whole nine yards
23. Take one day/week as "social media free" – Sabbath
24. Save $1200
25. Eat clean for 30 days
26. Invest in a personal trainer
27. Run a 5k
28. Try hot yoga
29. Spend a Sunday afternoon on the back of a motorcycle
30. Do something that scares me
So, what's on your list? How are you living more intentionally?
I'd love to hear from you...